Are you always wondering, "Why is my dog stressed in the car?" Learn what could be causing your dog's stress and what to do about it before you hit the road!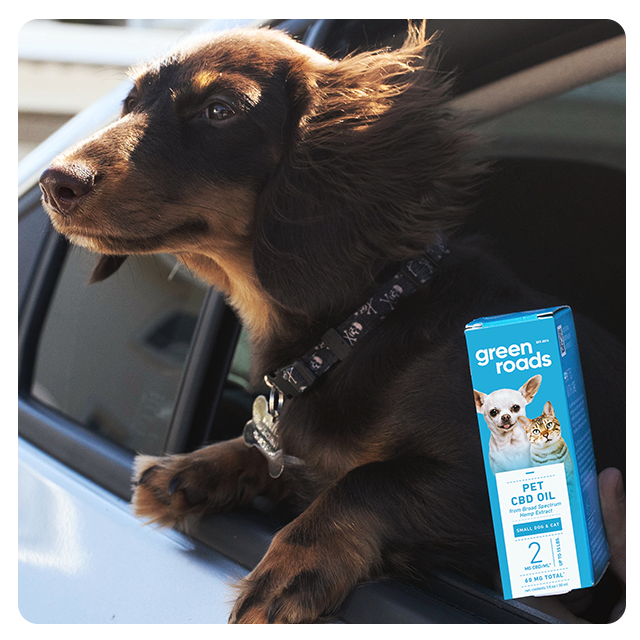 Wondering why your dog shakes in the car? Whether you're planning a pet-friendly vacation or taking some company along on a business trip, it can be stressful to bring along a nervous pooch passenger.
There are plenty of ways to help your pet calm down on the road, like Pet CBD drops, or making time for pet pee breaks. Let's learn some helpful tips for making road trips easy on your pet.
Also, your dog takes many cues from you and your body language! If you're getting stressed out, try some CBD gummies or softgels yourself.
How to Help Manage Your Dog's Stress in The Car

You can quickly take your pup from car-shy to man's best road trip companion with a few simple adjustments — and some patience!
Use CBD to Help Calm Your Pet

Pets, like people, can reap the stress-supporting benefits of CBD. CBD can help stressed pets achieve calm even in day-to-day stressful situations — like road trips, thunderstorms, firework displays, or separation. And, because your pet doesn't need a prescription for CBD, you can try it out without an extra trip to the vet!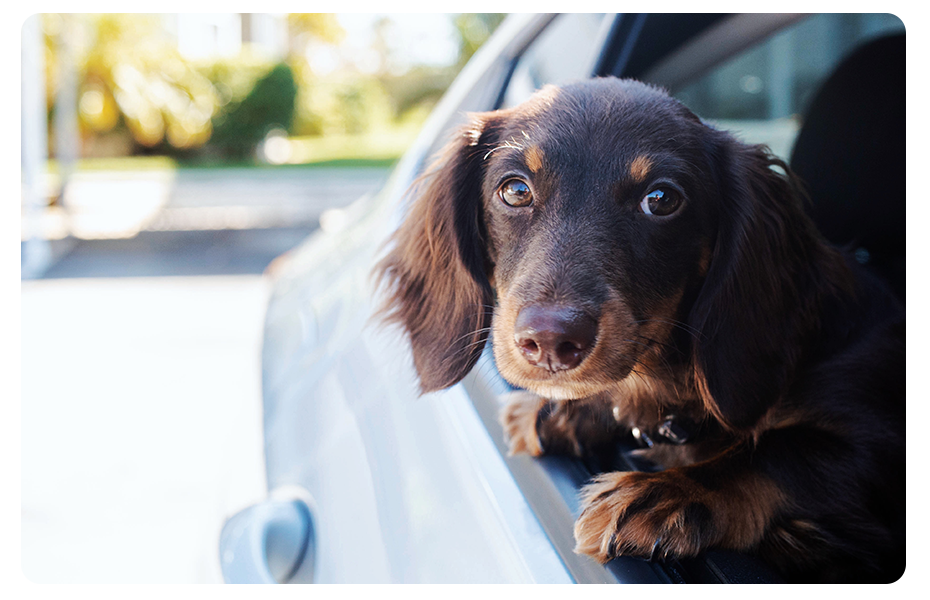 Acclimate Your Dog to Car Trips

If your doggo doesn't frequently make car trips, they could have negative associations with your car — hello, trips to the vet! Before your trip, work with your car-shy dog on building trust and getting comfortable in your vehicle. Start with short trips around the block, then bring your pal along for drive-through friendly errands — like picking up prescriptions, grabbing a latte at the drive-thru, or going through the bank.
Taking your dog on short trips around town can help breed trust — and help you catch and correct any bad car habits before you hit the road for your trip.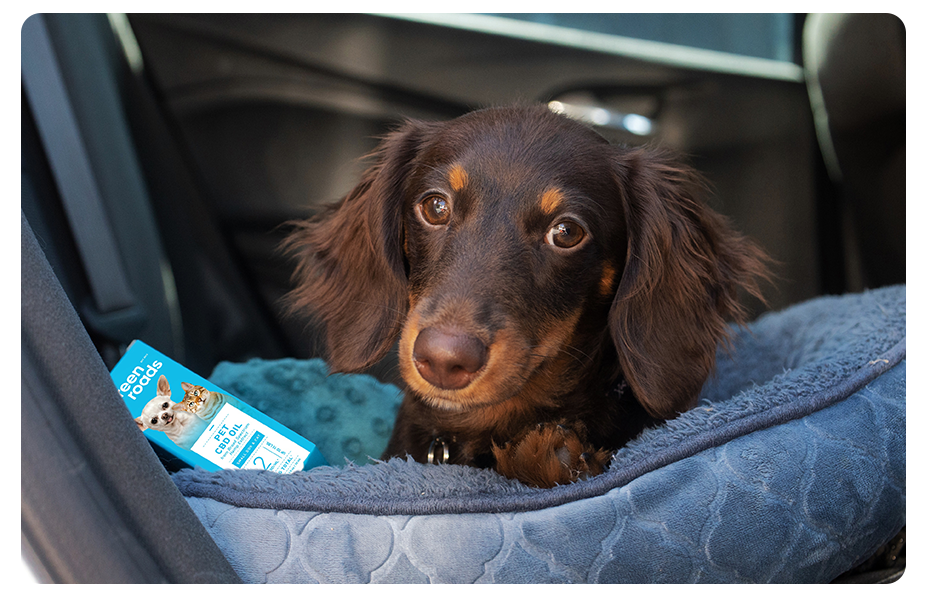 Control Your Pup's Environment

Overheating, dehydration, and restlessness can quickly result in stress. Because dogs can't sweat to cool down, you have to make sure your pet is kept at a cool, comfortable temperature. Refrain from cranking up the heat too high in cooler months, and be sure your furry friend has ample A/C when you're traveling in the summer.
In addition to controlling the temperature, consider crating your pup while you're underway. Crate-trained dogs tend to view their kennels and carriers as safe, familiar spaces. You'll also reduce the likelihood of dog-related distractions on the road.
To help your dog feel more at ease, ensure that there's plenty of space for them to lay down and get comfortable. You'll also want to refrain from stacking boxes or bags up next to them. Use ropes or bungees to secure your luggage to ensure your bags don't topple over onto your pet.
Pack along a few familiar things from home to create an even more comfortable environment for your dog. Consider bringing your pet's favorite bedding, a beloved chew toy, or something that simply smells like home. Your dog will feel comforted by the familiarity — and be a much more pleasant road trip companion!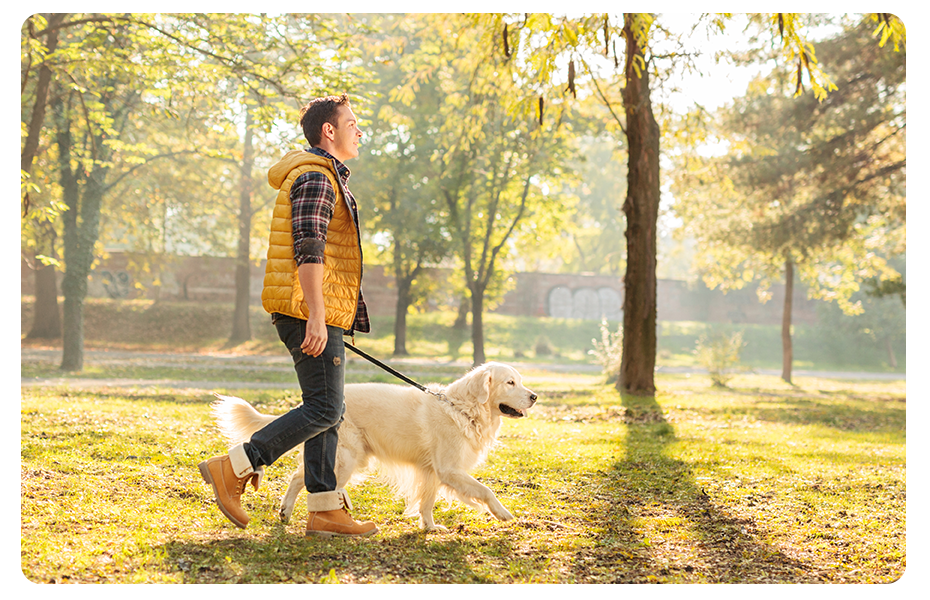 Make Time for Food, Water, Exercise, and Potty Breaks

If you need a bathroom break or to stretch your legs, it's likely that your dog does, too. Plan frequent breaks and stops to allow your pet to rehydrate, eat, and burn off energy. Since your dog truly is a creature of habit, aim to keep mealtimes consistent with their regular schedule.
If your dog is particularly active, you may find they get restless in the car. If so, find a nearby dog park or pet-friendly rest stop where you can engage in a game of fetch or let your dog run and roam off-leash. Ensuring that your dog's basic needs are consistently met can help keep road-trip stress at bay and keep your drive stress-free.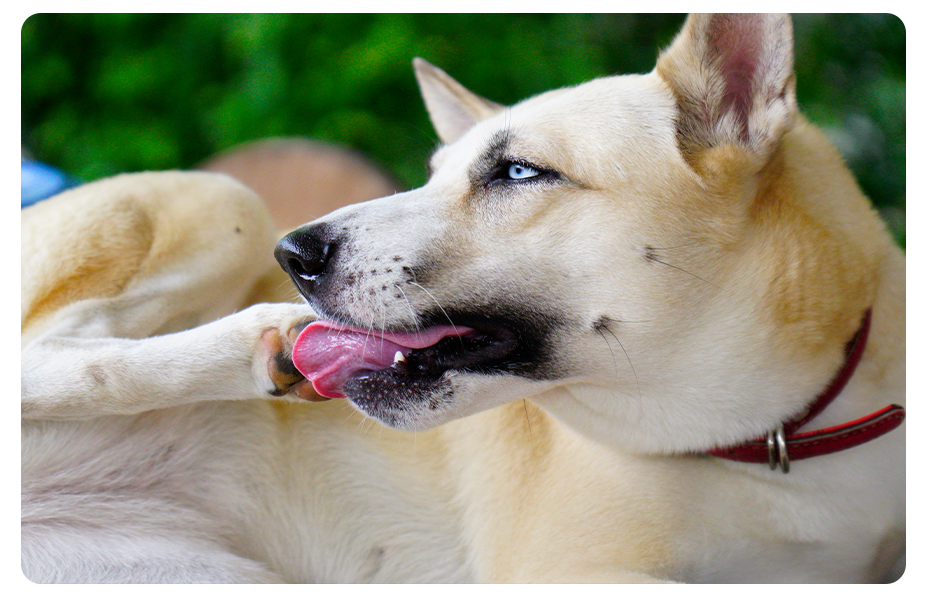 Your dog may exhibit signs of stress or discomfort in many different ways. Since your pal can't verbally communicate how they're feeling, you'll have to rely upon their body language. Keep an eye out for these tell-tell behaviors that may indicate your puppy pal is stressed:
Shaking
Drooling
Panting
An upset stomach
Giving "whale eyes"
Standing up or generally acting unsettled
Chewing their paws
Scratching
Why Do Dogs Get Stressed in the Car?

There are many reasons why road trips may stress out your pup. Here's some dog psychology that will help you better understand the root of the problem.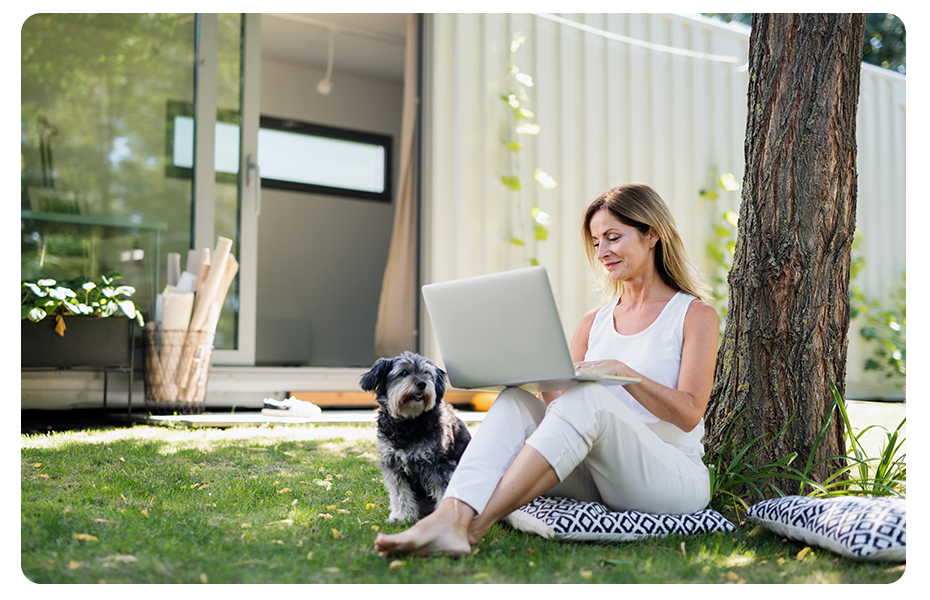 Ever notice that your pup seems to remember exactly when dinner and breakfast are supposed to be served? Or that they know when six o'clock rolls around, it's time for an evening jaunt? Dog trainers and veterinarians frequently note that dogs thrive on routine, so it's not surprising that taking a trip that disrupts their typical day could result in stress.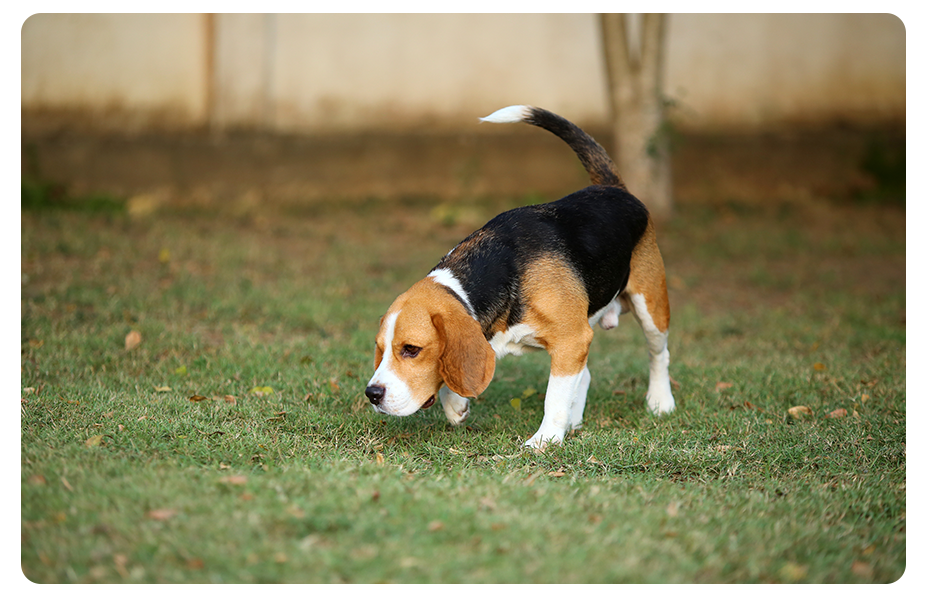 Dogs are Easily Overstimulated

In addition to a change in routine, traveling is bound to expose your pooch to unfamiliar sounds, spaces, faces, smells, and places. Even the most outgoing dog can quickly become overstimulated and stressed by travel.
As a dog owner, you're probably well aware that Fido's nose and ears are capable of picking up scents and smells that you don't. Since your dog's nose is anywhere from 10,000 to 100,000 times more sensitive than yours, there's a lot for them to process in a new space.
And like many people, some dogs are prone to car sickness. This phenomenon occurs when the information sent from nerves in your body and inner ear conflict with the information gathered by your eyes and ears. Since your dog has such an acute sense of smell and a massive hearing range, many dogs may feel a bit stressed and queasy while on the road.
Remember: Cars can quickly heat up from the sun when air conditioning is off — sometimes climbing up to 45 degrees higher than the outdoor temperature. Err on the side of caution, and don't leave your dog in a vehicle unattended for any length of time.
Green Roads Can Help You Avoid a Ruff Road Trip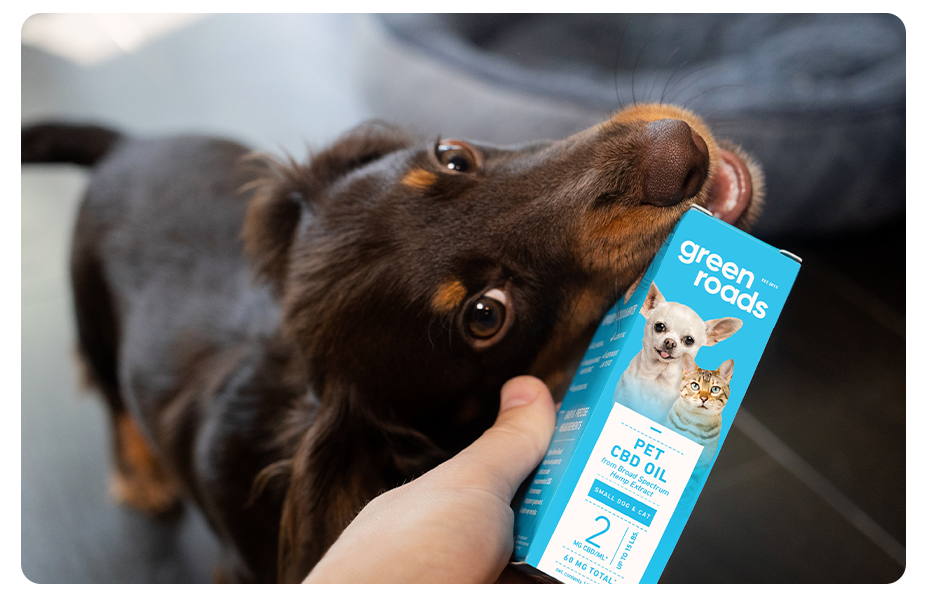 If your dog is stressed in the car, you can get ahead of a ruff road trip with a little help from Green Roads CBD for dogs. Like all of our products, our Green Roads CBD Pet Drops are rigorously tested and may provide stress support and support active aging.
Our CBD Pet Drops come in three formulations for small breeds, medium breeds, and large breeds. Browse online or locate Green Roads near you to select the right product for your pooch!