What makes up the best pain relief cream? It starts with the ingredients! Learn what Green Roads is putting in our pain cream to give you the relief you need.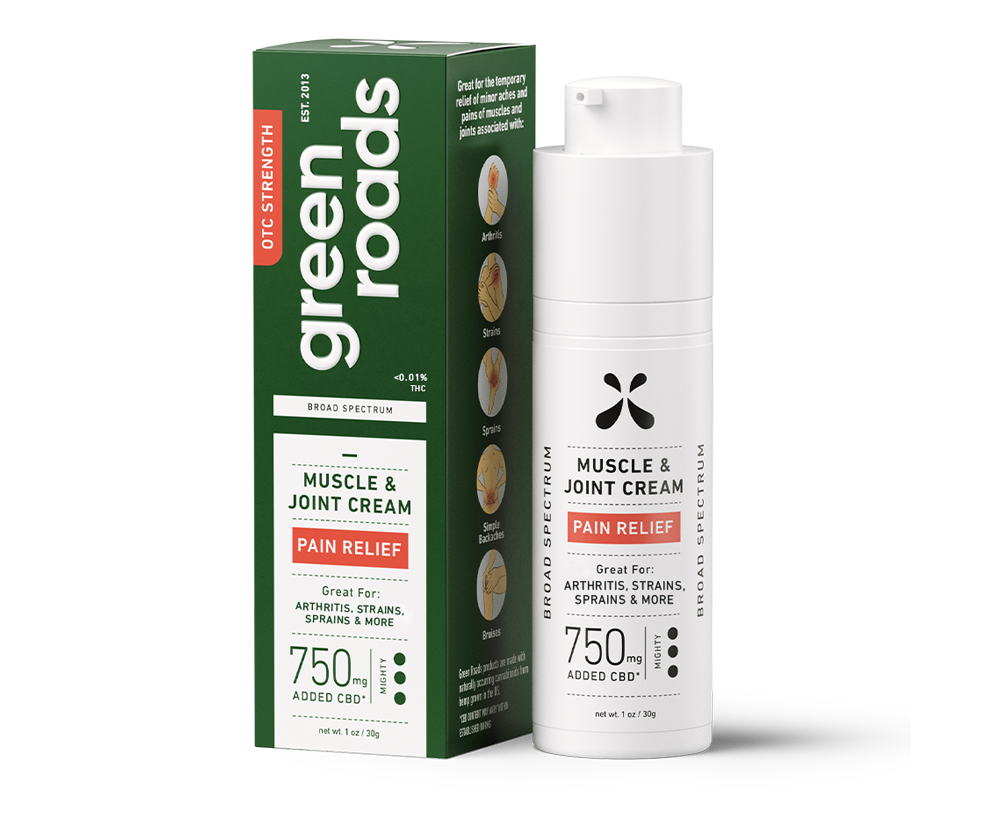 Feeling Sore?
Learn What Makes Up the Best Pain Relief Cream

Not all pain relief creams are created equal! Some topical pain solutions can leave your skin feeling slick and oily without giving you the pain relief you need.


Others might work but leave you smelling like a walking pharmacy. If you're searching for the best muscle cream for pain, then check out our list of must-have ingredients your next pain relief cream should include.
What's In Some of the Best Pain Relief Creams?

Your pain cream should use the right blend of the best topical pain relief ingredients to help give you freedom from minor everyday aches and pains. Without the right ingredients from the get-go, a pain cream essentially becomes an overpriced lotion.
Methyl salicylate is a plant-derived ingredient found in over-the-counter pain-relief products. When applied to the skin, methyl salicylate temporarily relieves minor aches and pains by reducing substances in the body that cause pain and inflammation. It is also the source of that familiar wintergreen scent found in some topical pain relief medications.
Once applied to the skin, methyl salicylate works quickly to deliver cooling and warming sensations, helping give you quick relief from minor aches and pains. Additionally, methyl salicylate absorbs into the skin well, allowing it to metabolize into salicylic acid which helps with pain and inflammation.
Menthol is a common active ingredient in over-the-counter topical pain relief products. Similar to methyl salicylate, menthol acts quickly on your skin to help relieve minor aches and pains. By attaching to certain receptors in your body, menthol delivers a soothing cooling sensation that can distract you from many physical troubles.
Menthol and methyl salicylate are both effective, fast-acting topical pain relief ingredients with the purpose of temporarily relieving body aches and joint pains. However, these ingredients typically treat your pain symptoms but don't support the underlying cause of your pain, such as muscle tension, inflammation, and stress-related muscle aches. When integrated into a pain relief cream, though, CBD can step in to help address pain symptoms and the underlying problems.
CBD may help with back pain, joint pain, and other everyday body aches. In fact, many people use CBD for joint pain thanks to its anti-inflammatory effects. CBD works harmoniously with menthol and methyl salicylate to help reduce inflammation due to arthritis that causes muscle aches and pains. For some people, this combination of active ingredients may shorten the time it takes to recover from tension and soreness.
Your pain relief cream isn't all about treating muscle and joint pain! The best pain relief cream should also benefit your skin. If your current pain cream dries out your skin or leaves you with a slick, oily feeling, it may not be using the right carrier oil.
A carrier oil is typically used to dilute essential oils and other ingredients before applying them to your skin. In the case of your pain cream, a quality carrier oil can help moisturize your skin while applying the beneficial active pain relief ingredients. Avocado oil and safflower oil are often considered quality carrier oils and are included in many of the best pain creams out there.
While some pain relief creams may smell nice, the ingredients that make up their fragrances can include a slew of unnatural chemicals!
"Chemicals used to add scents to products can cause serious health problems for some people, especially for people with lung diseases such as asthma or COPD," reports the Canadian Lung Association (CLA).
Diethyl phthalate is one of the most commonly used fragrance-related chemicals, notes the CLA, and it's likely one you want to avoid. The chemical helps scents last longer on the skin, but it can come with nasty downsides.
Diethyl phthalate can cause allergic skin reactions and irritate your eyes, nose, and throat. For some people, continued exposure can also lead to headaches, dizziness, and nausea, as noted in NIOSH's Pocket Guide to Chemical Hazards.
When choosing a pain relief cream, avoid products that have the ambiguous "fragrance" written on the list of ingredients, and opt for a pain cream that's scented using pure essential oils like lavender oil, rosemary oil, and peppermint oil.
Get the Best Pain Relief Cream for You

When it comes to the best CBD muscle rub with all the right ingredients, look no further than Green Roads Pain Relief Muscle & Joint cream.
Whether you're looking for the strongest back pain cream, a general topical pain relief solution for arthritis, or CBD for everyday muscle pain, Green Roads' pain relief cream has what you need.
Our team of pharmacists used the right topical pain relief ingredients to formulate the best extra strength CBD pain relief cream—without scary fragrance chemicals like diethyl phthalate.
Shop CBD topicals online or find your nearest authorized Green Roads retailer to start getting true relief from your muscle and joint pains today!