Are you skipping an evening routine before bed? It may be keeping you up at night! Try these tips for building your perfect evening routine for better sleep.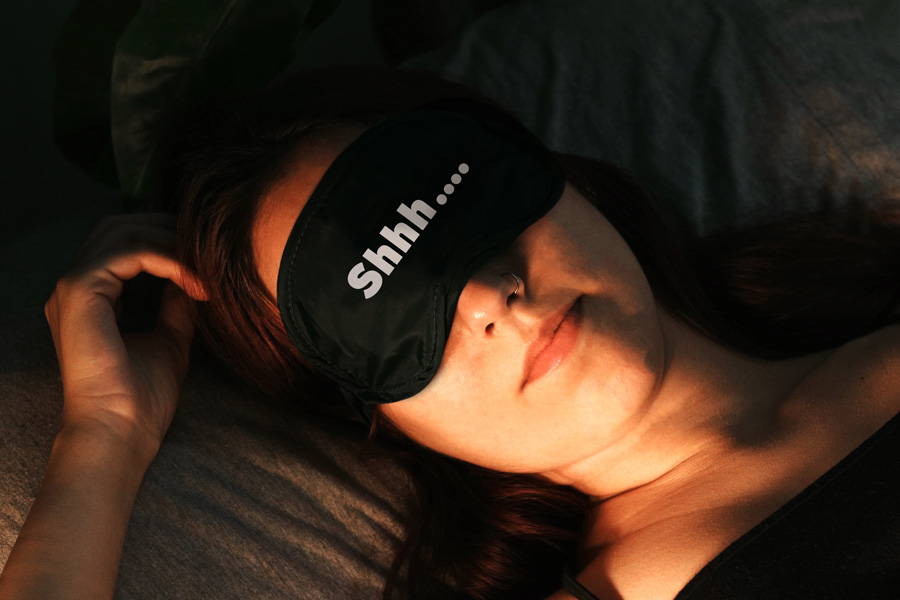 Can't Sleep? Try These 7 Tips to Build Your Perfect Evening Routine
Hopping straight into bed after a long day can be tempting. But skipping a solid evening routine may leave you tossing and turning all night!

Establishing your perfect nighttime routine can help you wind down before bed — and might even help you sleep better all night long!
Why Is An Evening Routine Important?
According to the National Sleep Foundation, routines are important because people are creatures of habit. Establishing habitual pre-bed routines can help your brain associate those activities with sleep.
"Like any other routine, bedtime routines establish habits that help our brains recognize when it's time to sleep. By performing the same activities in the same order every night, your brain comes to see those activities as a precursor to sleep," notes the Foundation.
Focusing on anxious thoughts and pent up stress from the day can quickly lead to restlessness and sleep loss at night. Instead, create a nightly self-care routine to help relieve stress and anxiety and prepare your mind and body for rest. If your current pre-bed procedure needs a little attention, check your stress at the bedroom door and help get a good night's rest with these simple tips for building your perfect evening routine.
7 Tips to Build Your Perfect Evening Routine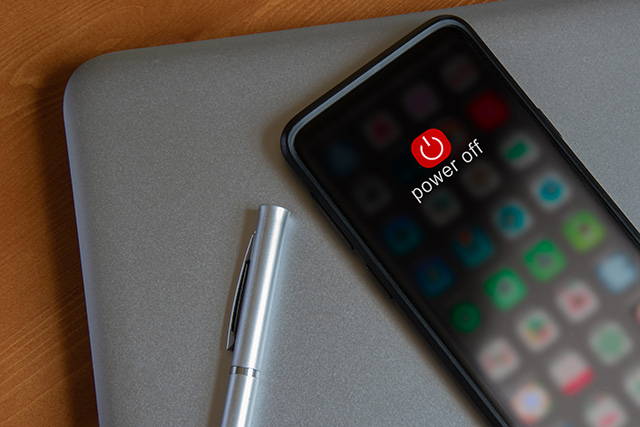 1. Stash Your Electronic Devices

It's tempting to check your social media feed or respond to a late-night email. However, using electronic devices before bedtime may disturb your sleep.
The American Academy of Sleep Medicine recommends turning off electronic devices 30 minutes before you're ready to snooze. Electronic back-lit devices like cell phones, tablets, readers, and computers emit something known as "blue light."
According to the National Sleep Foundation, blue light can reduce or delay your natural production of melatonin. Melatonin is a hormone that plays a part in your body's natural circadian rhythm — your 24-hour sleep-wake cycle. Too much blue light before bed can make you feel more alert and keep you tossing and turning.
Additionally, try turning off the TV at least one to two hours before bed to help create a healthy sleep environment and give your brain a chance to quiet down.
As you're winding down for the evening, it's best to stay away from caffeine and alcohol. Consumption of caffeinated or alcoholic beverages can make it tougher to fall asleep. And it may be wise to quit drinking beverages altogether right before bedtime to avoid middle-of-the-night bathroom trips.
If you do need to sip something during your evening routine, try a cup of non-caffeinated chamomile or lavender herbal tea to help you wind down. These herbal teas are said to help calm your mind and body — just make sure you visit the bathroom before tucking yourself in.
A warm bath before bedtime can not only help you feel fresh and clean, it also can help you get a good night's sleep!
Researchers at the University of Texas' engineering school found that bathing one to two hours before bedtime in water ranging between 104ºF and 109ºF can improve your sleep.
A warm bath (or shower) can boost blood circulation from the core of your body to the hands and feet, helping decrease your core body temperature and contribute to higher-quality sleep. While you're sleeping, your core body temperature goes down just a tad; a warm bath or shower can help achieve the ideal temperature for sleep.
Do you feel like you're not much of a bath person? Try turning your nighttime soak into a relaxing experience with a CBD bath bomb. This calming bath bomb with eucalyptus, lavender, and supportive CBD isolate can elevate your bath time and help you unwind before bed.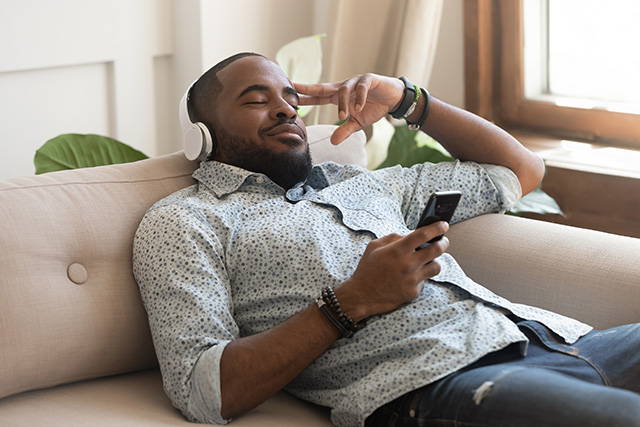 Listening to calming, soothing music before bed may help deliver consistent, restful sleep. Adding music to your evening routine can help your brain associate the melodies with bedtime, trigger a positive chemical reaction in the brain, and even slow your heart rate.
A study published in 2005 found that listening to soft music for 45 minutes before bedtime resulted in significantly better sleep. Try creating your relaxing playlist ahead of time, so you don't have to figure out what to listen to once your head hits the pillow. That way, you can easily tune into your music, tune out your day, and promote healthy sleep!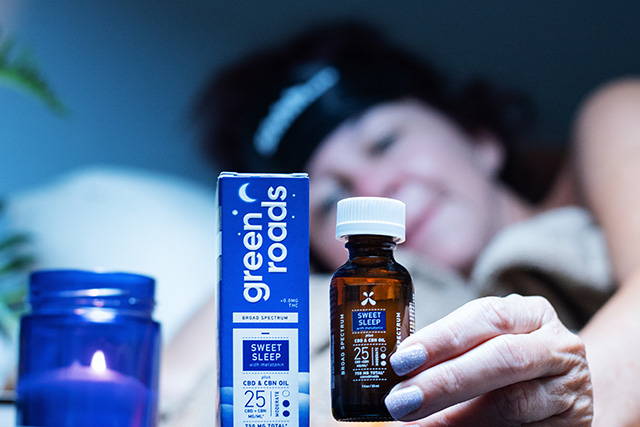 5. Tune Out Mental Stress

Just like listening to music, you need to listen to your body and mind, too. If stress is keeping you up at night, it's important to manage that stress level as part of your evening routine. And Green Roads' melatonin-infused CBD sleep products are your ticket to a good night's sleep.
Melatonin has natural sedating effects that can help you fall asleep. Melatonin works by regulating your body's sleep-wake cycle — an increase tells your brain that it's time to sleep, while a decrease in melatonin tells your mind it's time to wake up. So why not just take melatonin? Because while it can help you sleep, melatonin isn't meant to help with the thing that's keeping you up — stress!
CBD helps your mind turn down the dial on everyday stresses. When combined with melatonin, CBD works harmoniously with your mind and the melatonin, providing support for both a good night's sleep and a less-stressed you.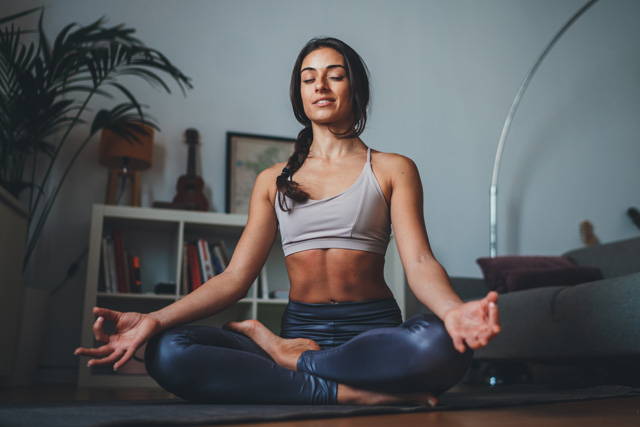 Meditation is a great way to ease into nightly slumber, and many apps can teach you proper meditation techniques. According to Women's Health magazine, some of the best meditation apps include Headspace, Calm, Insight Timer, Aura, Sattva, and YogaGlo.
"I'm a big believer in meditation," explains Angela Drake, a clinical professor in psychology and behavioral sciences at the University of California, Davis. Meditation can improve sleep and emphasize the importance of your mind-body connection. Meditation can take some practice, but it's important to stick with it. Mediation can not only lower your stress hormones, but there is also neuroimaging research that shows the positive effect meditation has on the mind.
The next time you crawl into bed, start up a meditation app, video, or audio walkthrough, and follow along toward a healthier sleeping habit.
7. Pick Up the Right Book

According to the American Heart Association, reading a book before heading to bed can help slice stress levels in half in about six minutes. It's "an excellent way to relax the brain and fall asleep."
Try to steer clear of suspense and action stories. Instead, opt for drama-free books as part of your evening routine. This way, the thrill of reading the next chapter won't keep you from getting some shut-eye.
Boost Your Evening Routine With CBD
Don't let your perfect evening routine be a burden. No matter if you start small with a little bit of self-care or add lengthy meditation to your pre-bedtime ritual, the best evening routine is one that you find easy to do — like adding Green Roads Sleepy Zs CBD gummies to promote better sleep.
Pamper yourself, throw on your comfiest pajamas, and let our sweet, melatonin-infused CBD gummies help you get a rest-filled night of sleep. Shop Green Roads sleep solutions products now to start your journey toward your perfect evening routine.