Green Roads launches Own the Day campaign celebrating pharmacist-made, lab-tested CBD oils, topicals, gummies, capsules, mushroom nootropics, & more.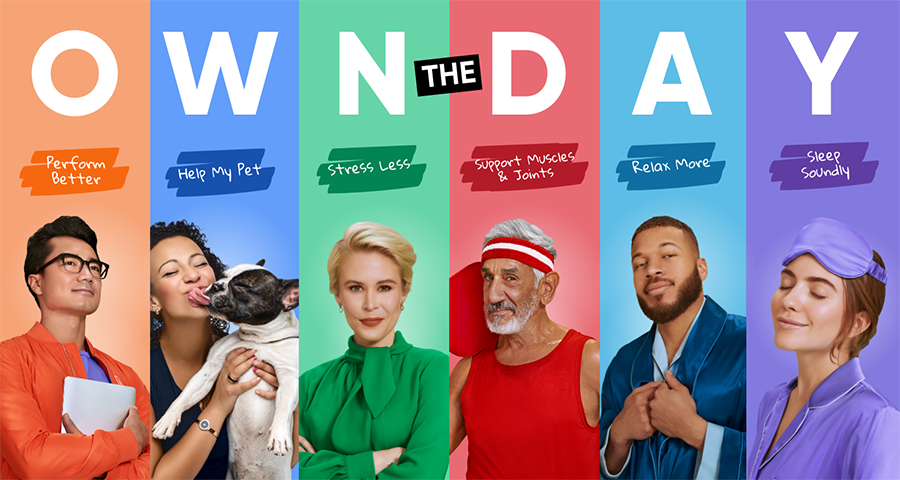 Green Roads Launches 'Own The Day' Brand Campaign
January 18, 2022 - Deerfield Beach, Florida - Green Roads, one of the leading CBD wellness brands, announced today the launch of its first-ever brand campaign. 'Own The Day' functions as a key part of Green Roads' growth strategy following its acquisition by The Valens Company (NASDAQ: VLNS) in 2021.
The campaign celebrates Green Roads' ability to help consumers with common wellness issues: stress, sleep, muscle & joint pain, relaxation, and focus. It does so through bold, confident portraits of individuals who have successfully navigated these conditions, all held together with the optimistic, unifying theme of Own the Day.
"We believe that great days are built by small moments, whether it's finding calm on a hectic morning, handling stress with ease or soaring through an afternoon slump," said Lee Sosin, Chief Marketing Officer at Green Roads. "With this campaign, we're putting the consumer first, and our aim is to connect on an emotional level and position Green Roads as your partner as you journey from the days you are used to having, to the days you want to have."
Green Roads also relaunched its DTC e-commerce experience to carry the Own the Day messaging and prominently feature the solutions and personas featured in the campaign.
"Green Roads' products have always led the industry in terms of quality, but we have spent the past two years building a technology foundation that I believe is unrivaled in our industry," said Dale Baker, president of The Valens Company - US. "This campaign will allow us to connect with more consumers, and bring them into an e-commerce experience designed to solve their problems."
"Own the Day" was created in partnership with Known, the agency of record for media and creative for Green Roads. This new campaign leverages Known's Skeptic™ Operating System, which uses machine learning and AI to deploy and optimize thousands of creative permutations in real time. Other Known clients include Netflix, Google, Beyond Meat, BeautyCounter, Just Egg and more.